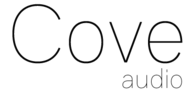 Cove Audio
High quality audio cables made in the UK.
Cove Audio is a specialist Bri​tish manufacturer of high quality audio cables and connectors.
Cove Audio Cables offer a range of cables for each part of your sound system chain and are constantly striving to bring our customers closer to the music they love. We do this using a sound engineering approach to overcome the challenges of balancing good design, quality materials, and proven production techniques, to offer a great musical sound.
Try our cables in your system to unlock hidden details to reveal the clarity and musicallity within your beloved music collection.